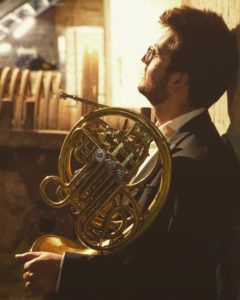 The young horn player began his studies in San Lorenzo de El Escorial. At a very early age, he began to play with the Madrid Youth Orchestra and shortly thereafter with the "Schleswig-Holstein Musik Festival Orchestra" and the "Gustav Mahler Jugendorchester", where he began his international career.
As a holder of the Humboldt Foundation scholarship, Adrián completed his Bachelor and Master studies at the Musikhochschule "Hanns Eisler" in Berlin, by Professor Marie-Luise Neunecker.
In November 2017 he won the second prize and the audience prize in the renowned "International Horn Competition Citta Porcia", in Italy.
In 2018, he published his first CD "Avantgarde", with a repertoire of the twentieth century for horn and piano. He is currently a teacher at the University of Music and Theater in Hamburg and a horn player at the "NDR-Elbphilharmonie Orchester". He is also engaged at the Andrea Barca Capella and the orchestra of the Wagner Festival in Bayreuth. Adrían is one of the most sought horn players of his generation, which lead him to play at important chamber festivals such as the Zermatt, Mecklenburg-Vorpommen, as well as to play in orchestras such as the Staatskapelle in Berlin, the Mahler Chamber Orchestra and the Berlin Philharmonic.