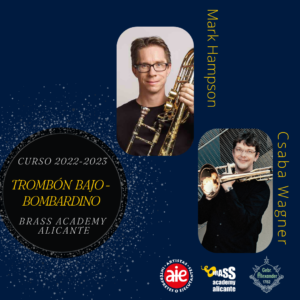 PROFESSORS BASS TROMBONE – EUPHONIUM
COURSE 2022-2023
Mark Hampson / Bass Trombone / Mahler Chamber Orchestra / Luzern Festival Orchestra
Csaba Wagner/ Bass trombone/Symphonieorchester des Bayerischen Rundfunks
Entrance exam 2022-2023
26 March 2022, 10 a.m.-1 p.m
Where?
Calle Ciudad de Matanzas 5 , 03 005 Alicante
Or via video uploaded to Youtube, sent from now until March 25, 2022,
together with the registration form to office@brassacademy.com
Low registration price trombone: 1.200 ,- €
Terms and dates of payment: read general terms and conditions.
* Activities
* 9 annual meetings with Mark Hampson.
* Chamber music, Brass Ensemble and collective orchestral repertoire classes
* 20% discount on Masterclasses organised by the Brass Academy Alicante.
* Free participation as listener in the Masterclasses organized by the Brass Academy Alicante.
* Possibility to participate in the Ensemble Brass Academy Alicante (through aptitude tests).
* Possibility of participation in the Sony and Freixenet Orchestras of the Reina Sofía School of Madrid and
at the "Encuentro de musique de Santander" (through internal tests).
Repertoire Audition trombone bass
Works: Levedev concert for trombone bass
Orchestra solos: 9a Beethoven , Valkyries
Account number for enrollment:
Brass Academy Association of Alicante
IBAN ES16 0049 4518 1923 9000 9332
Santander Bank
CERTIFICATE OF STUDIES
At the end of the academic year of study at the Brass Academy Alicante, the artistic director of the Academy gives the student a certificate-diploma of studies according to the studies and modalities carried out.