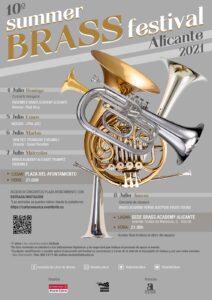 X Summer Brass Festival Alicante 2021
4-11 July 2021
www.alicantebrassfestival.com
The Brass Academy Alicante, International Academy of Advanced Studies for Metal Instruments, started in 2012 with the kind collaboration of the City of Alicante, which gave us one of its fantastic facilities in the emblematic historic center of Alicante.
An international cycle of summer courses and festival, which continues every July since then, with the aim of bringing together students and lovers of metal instruments, who during a week, in an atmosphere of camaraderie can enjoy the music, perfect their technique, prepare for competitions and at the same time enjoy the fantastic surroundings of Alicante, its historic center, its exquisite beaches and its excellent gastronomy with an exceptional climate.
Information and registration: www.alicantebrassfestival.com
* Information video Summer Brass Festival Alicante
* Other videos from past Festivals
* 5th Symphony G. Mahler – 2016
* Brass Academy Horns & Co.
* 2014- Ensemble Brass Academy Alicante: Relicario
* 2014- Ensemble Brass Academy Alicante: Cool horns
* 2014 – Malaga Quintet
* 2014 – Moggio Jazz
* 2014 – Ensemble Brass Academy Alicante: Fogo gives mulata with soloists Ximo Vicedo and Vicente Cascales
We are waiting for you!
Rudi Korp,
Artistic Director.
X International Summer Brass Festival Alicante