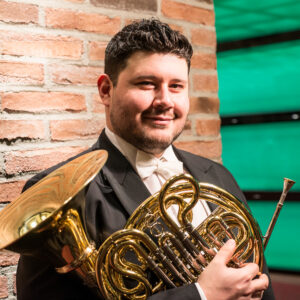 MATIAS PIÑEIRA
Münchner Philharmoniker 
Horn Soloist of the Munich Philharmonic Orchestra, he was born on July 7, 1989 in Santiago de Chile. In 1997, he took his first steps on the French horn with his grandfather, Antenor Piñeira, at the age of seven, in turn, joining the Orfeón de Firemen the same year.
In the year 2000 he began his private studies with the teacher Edward Brown in order to also be part of the national youth symphony orchestra as a guest.
Some time later, Matías began his formal studies with Maestro Brown at the music institute of the Catholic University of Chile. During that time, Matías received various scholarships such as the "Jorge Peña Henn Scholarship" and the "Friends of the Municipal Theater Scholarship" to finance his career as a musician. In addition, he participated in the season of concerts of the Chilean        symphony orchestra in the solo children program.
In 2005 he joined the youth symphony orchestra as a soloist. The following year he is invited
to participate in the Campos do Jordão winter festival, Brazil. taking classes with outstanding musicians like
Wolfgang Gaag and Jean-Pierre Berry among others.
In 2008, at the age of 19, he won the position of soloist horn of the Chilean symphony orchestra as a member
stable for five years. That same year he is invited to take private classes with the teacher Ignacio García,
as soloist of the Berlin State Opera, Germany. Before leaving Chile, Matias received many good
critics and also winning prizes awarded for performing as a soloist with the Chilean Symphony Orchestra,
by the critics and also prizes awarded by their own colleagues from said orchestra such as
"The best of the Concert Season".
In 2014 he is part of the Orchestral Academy of the Berlin State Opera.
Along with this group, he made various international tours under the baton of maestro Daniel Barenboim.
In March 2015, with the tutorship of Ignacio García, he won the position of soloist in the
Philharmonic Orchestra of Munich, Germany.
Registration Form
Formulario-inscripcion-masterclass-2023-2024
Information
(+34) 685 551 049 (also WhatsApp available)
office@brassacademy.com
Payment Methods
BIZUM: +34 658 575 136
Bank transfer:
Account:
Asociación Brass Academy Alicante
IBAN ES16 0049 4518 1923 9000 9332
Banco Santander
* When making the transfer please do not forget to put in concept:
Name Instrument and your first and last name.
Send copy of the receipt by e-mail: office@brassacademy.com