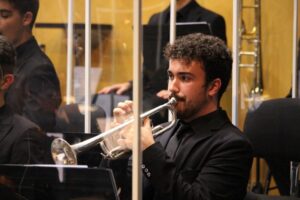 Nacho Cibera Chulbi
Nacho Civera Chulbi began studying music at the age of 4 at the Public School of Music
"Antón García Abril City of Teruel". At the age of 8 he started studying the trumpet at the school of the
hand of his father, Antonio Civera.
He studied Professional Education at the Professional Conservatory of Teruel with Professor Juan Ignacio Lozano
(Brilliant Magnus Quintet).
He received honors in trumpet in 2013, 2014, 2015 and 2016.
In the 2018/2019 academic year he began his studies at the BRASS ACADEMY ALICANTE with the professors
Rudi Korp and Martin Angerer, and at the Superior Conservatory of Music "Óscar Esplá" in Alicante
with Professor José Ibañez Barrachina.
He has taken specialization courses with professors Eric Aubier, Roman Rindberger, Luis González,
Rudi Korp, Pacho Flores, Frits Damrow, Sergio Guarné, Christian Ibañez… among others. He participated in the
International Trumpet Competition "ERIC AUBIER" 2017 held in Rouen (France).
He has collaborated with the Barcelona Liceu Opera Orchestra.
He is currently a member of the Ensemble Brass Academy Alicante, ADDA Young Symphony and OFUA (Philharmonic Orchestra
from the University of Alicante).