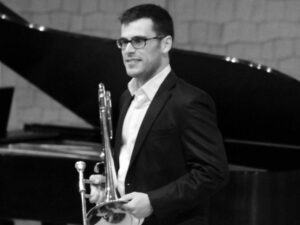 He is a trombone soloist with the Orquesta y Choro de la Comunidad de Madrid (ORCAM) and a professor at the Centro Superior Katarina Gurska in Madrid.He has had a trial period with the Mahler Chamber Orchestra.
He finished his studies at the Superior Conservatory of Music "Oscar Espla" in Alicante, specializing in trombone, obtaining honorary matriculation, with Professor Felipe Lanuza.
He studied a master's degree in performance at the Hochschule Für Musik in Freiburg (Germany) with Professor Fabrice Millischer.
He collaborates assiduously with orchestras such as Orquesta Nacional de France Mahler Chamber Orchestra,Orchestra of Europe, Orquesta Nacional de España, Orquesta Sinfonica de Barcelona, Orquesta Sinfonica de Cadaques, Orquesta del Gran Teatro del Liceu de Barcelona, Orquesta RadioTelevisión Española, Orquesta Sinfonica de Bilbao, Orquesta Filarmonica de Bilbao Freiburg, Baden Baden Philharmonic Orchestra, thanks to this he has worked with masters such as Valery Gergiev, Christoph Eschenbach, Daniele Gatti, Krzysztof Urbanski, George Pehlivanian among others.
He has been a member of the JONDE (Young National Orchestra of Spain).
He has been awarded first prizes in competitions: XII National Competition of Young Performers "Jose Valcarcel" in A Estrada (Pontevedra), Young Performers "Ruperto Chapi" in Villena, Competition of Young Performers Antonio Serrano (Priego de Córdoba) and in the Competition of Young Music of Spain, thanks to this he has enjoyed edited from a recital tour throughout the country and through EMCY (European Union of Music Competition for Youth) made with the project Give Music a recital tour throughout Europe.