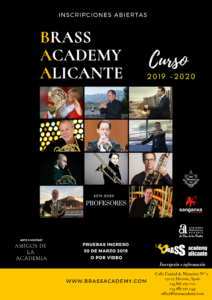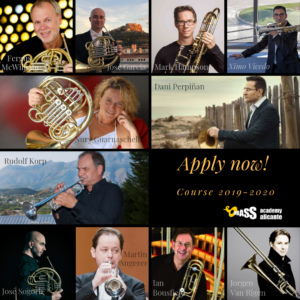 Study designs for HORN and TRUMPET:
A – Comprehensive program
B – "Junior" program
C – Individual lesson packages
Study designs for TROMBONE, TUBA, and EUPHONIUM:
A – Comprehensive program
TERMS AND CONDITIONS OF REGISTRATION FOR THE ACADEMIC YEAR 2019-2020
Entrance auditions: 30 March 2019,  in Alicante ( Avenida Ciudad de Matanzas Nº 5)  or via video (uploaded to Youtube and sent to office@brassacademy.com until the 30 of March 2019 )
Certificates of study: Upon completion of the academic year at the Brass Academy Alicante, the artistic directors of the Academy present a Diploma of studies to the student, corresponding to the course of study completed in that year.
_____________________________________________________________________________
Open application period and granting of the "Brass Academy Alicante Scholarship" for 2019-2020:
Pre-requisites for scholarship consideration:
*Only for trumpets, horns, and trombones.
*Only for students under age 28.
Scholarships of diverse sums will be granted according to the score received in the entrance auditions (live and by video).
In order to obtain this scholarship, it is necessary to audition in person at the Brass Academy facility on March 18 2018 or to send a video (uploaded to YouTube) to the office@brassacademy.com email address, along with the registration form completed, with a digital photograph attached.  The artistic committee decides on eligibility for a "Brass Academy Alicante Scholarship" according to their musical evaluation of the audition.
Important:
The students who have been accepted for Comprehensive Study and who possess a scholarship from another institution to study at the Academy are ineligible to receive to "Brass Academy Alicante Scholarship."
*The scholarships will be reserved for those students who do not receive any other form of financial support.
_________________________________________________________________________
Explanation of the STUDY PROGRAMS:
*A – Comprehensive study:
For TRUMPET, HORN, TROMBONE, and TUBA
This program is directed toward students age 16 and up with professional aspirations who seek a serious and rigorous program of study.  It is also directed toward professionals interested in refining their technique, their interpretation, or who wish to train for competitions and auditions with our internationally renowned teaching staff.
For this program of study, the Academy offers individual lessons and participation in brass ensembles that perform concerts and study the performance of orchestral repertoire.
In this program, we give special importance to the preparation of orchestra musicians and the development of an excellent technique.
Tuition cost: please see the information under each specific instrument heading.
Forms of payment for comprehensive study:
1st payment until 15 April 2019
The candidates admitted in the entrance auditions in 2018 must pay at least 500 euros as a registration deposit to reserve their place in the Academy, to be paid before 15 April 2019.
*This reservation payment will not be refunded in case of cancellation on the part of the student.
2nd payment: 500 euros, until 30 June 2019
3rd payment: the rest of the tuition, to be paid before 25 September 2018.
_______________________________________________________________
B – BRASS ACADEMY JUNIOR
For young people ages 12 to 15 years
*3 individual lessons per month
*Participation in the various chamber music groups of the Academy and in the Brass Ensemble, with concerts
*Free participation as an auditor in all of the individual lessons and group classes of the Brass Academy Alicante, as well as the Masterclasses.  This means students have the possibility to listen to lessons given by internationally-renowned artists and professors throughout the entire 2018-19 course.
Annual fee: 1.200 Euros
Forms of payment for the "Junior" program:
1st payment until 15 April 2019
The candidate admitted upon their entrance auditions in 2019 must pay at least 500 Euros as a registration and reservation fee before 15 April 2019.
2nd payment: Until 25 September 2019.
_______________________________________________________________
C – Individual Lesson Packages:
(Only available for TRUMPET and HORN)
* Pack of 5 classes per year "S": 400,- Euros
* Pack of 10 classes per year "M": 800,- Euros
* Pack of 15 classes per year "L": 1.100,- Euros
* Pack of 20 classes per year "XL": 1.400,- Euros
* Valid only during the academic year 2018-2019.
*Individual lessons of 80 minutes with the principal professors of the Academy in each discipline.
*Opportunity to participate free of charge as an auditor in all Masterclasses and lessons at the Brass Academy.
* The fees for packs of 5 or 10 lessons must be paid in full at the time of registration.
*The fees for packs of 15 or 20 lessons may be paid in two partitions: 1st payment at time of registration (at least 500 Euros) and 2nd payment until 25 Setpember 2018.
________________________________________________________________
COURSES FOR CHAMBER ENSEMBLES
For brass quintet, horn quartet, Low Brass, or larger brass ensembles.
5 sessions (20 hours of coaching): 1,500 Euros
3 sessions (12 hours of coaching): 900 Euros
1 session (10h00 to 14h00): 400 Euros
Instructors:
Rudi Korp (Brass Quintet and Brass Ensemble)
Nury Guarnaschelli ( French Horn Groups)
Patricio Cosentino (Low Brass)
_______________________________________________________________________
"BRASS ACADEMY CLUB"
For past students, fans, and friends of the Academy who wish to stay involved in the Academy's activities:
*200 Euros per year
Ability to participate in the chamber music activities and Brass Ensembles at the Academy and participate as an auditor in all masterclasses.
*Invitation and free entrance to the concerts of the Brass Academy Alicante.
*Information by e-mail of all activities of the Academy.
*Official sponsor status of the Academy upon payment.
________________________________________________________________________
PAYMENT OF TUITION FEES:
Account owner for payment receipt: BRASS ACADEMY ALICANTE SL
Brass Academy Alicante SL Account No:
BANCO BANKIA  /   IBAN: ES97 2038 6347 1860 0016 1091
 SWIFT/BIC Code: CAHMESMMXXX
* When making the transfer, please do not forget to include the details: INSTRUMENT – STUDENT'S FIRST AND LAST NAMES.
Pease send a copy of the receipt by e-mail to: office@brassacademy.com