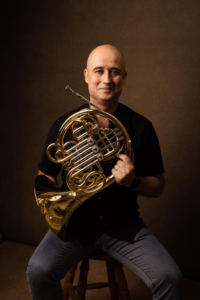 José García Gutierrez is an accomplished French-horn professor and performer
from Alicante, Spain. He completed his studies at the Conservatorio Superior de Murcia, and later at the Sweelinck Conservatorium in Amsterdam. He was a member of the Orchestre des Jeunes de la Mediterranee (1990, 91, 96 & 99) and the Gustav Mahler Jugendorchester (2000).
In 1998 he obtained First Prize at the 1st National Horn Competition "Villa de Benaguasil" in Valencia.
As a professional horn player he has held several distinguished posts, such as co-principal horn of the Orquesta Filarmonica de Gran Canaria (1997-1999), and Principal horn (2000-2001); Co- principal horn of the Orquesta de Galicia (2001-2002), Principal Horn of the Orquesta Sinfonica de Navarra (2002-2003), and Principal horn of the Orquesta Sinfonica de Extremadura (2004-2007). Since November 2007 he has been Principal horn with Spain's prestigious Orquesta de RadioTelevision Española (ORTVE) and in 2018 was appointed Principal horn of ADDA Sinfonica, Alicante.
As guest performer he has had concert engagements as soloist or principal horn with several orchestras, including the London Symphony Orchestra, Orchestra Teatro alla Scala, Sydney Symphony Orchestra, Mahler Chamber Orchestra, Vienna Radio Orchestra, Sichuan Symphony Orchestra, Orquesta de Cadaques, Symphony Orchestra of India, Orquesta Sinfonica de Tenerife, Orquesta de Granada, Orquesta Sinfonica de Bilbao and Orquesta Sinfonica de Murcia. He has worked with conductors such as Ozawa, Boulez, Gergiev, Rostropovich, Mehta, Chailly, and Rattle, amongst others.
He has recorded Mozart's Wind Octet with the Gustav Mahler Jugendorchester Octet; "Soliloquies" for solo horn and "Trio Concertante" by maltese composer Joseph Vella, and the Horn Concerto and "Eclogue" by Maurice Blower together with the Malta Philharmonic Orchestra, as well as a CD of chamber music released in 2019 with Argotti Ensemble featuring works by Schumann and Glière amongst others.
He is also active as a teacher and has given masterclasses and coached and conducted youth orchestras in several countries, including China, Colombia and Mexico. He is regularly in demand across Spain as brass mentor and has worked closely with the prestigious Brass Academy in Alicante, In 2016 he was appointed artistic consultant to the Malta Youth Orchestra and since September 2019 is Musical and Artistic Director of MYO. During these last three years he has developed an intensive orchestral training programme resulting in several acclaimed productions, including amongst others the premiere of the opera "The Three Little Pigs".