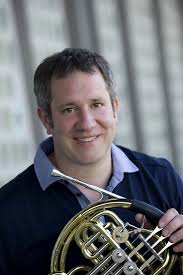 13th & 14th March 2018 
Special Mode Horn
Stefan Dohr studied in Essen and Cologne and started his
professional career at the age of 19 as principal horn of the Frankfurt Opera.
He occupied the same position with the Bayreuth Festival Orchestra, the Orchestre Philharmonique
de Nice and the Deutschen-Symphonie-Orchester Berlin.
Stefan Dohr has been the principal horn of the Berlin Philharmonic Orchestra since 1993.
As a soloist Stefan Dohr has worked with many celebrated conductors, including Daniel Barenboim,
Bernhard Haitink, Christian Thielemann, Ingo Metzmacher and Daniel Harding  as well as Claudio Abbado.
His engagements as a sought after chamber musician include performances with his  Philharmonic
colleagues in various ensembles as well as with  partners such as Maurizio Pollini, Lars Vogt, Kolja Blacher
and Ian Bostridge.
He is also a member of the Berlin Philharmonic Octet as well as the Ensemble Wien-Berlin.
Stefan Dohr appears regularly in international chamber music festivals and is invited to give master classes
throughout the world.
As well as the solo-repertoire of the classic and romantic period such as the horn concertos of Mozart,
Haydn and Strauss, Stefan Dohr's interest also lies in works by contemporary composers.
He has had a number of pieces composed for him, by composers such as Herbert Willi (2008),
Johannes Wallmann (2010), Toshio Hosokawa.