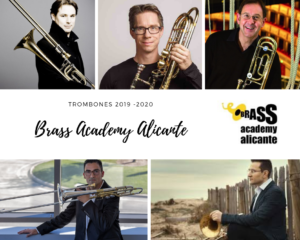 PROFESSORS 2018 -2019
Daniel Perpiñan / Professor ESMUC Barcelona.
Ian Bousfield / International soloist / Professor, Hochschule Bern (Switzerland)
Ximo Vicedo  / Soloist RTVE Orchestra (España)
Mark Hampson  / Mahler Chamber Orchestra / Luzern Festival Orchestra
Now accepting applications for the 2019- 2020 program !
Information and registration : office@brassacademy.com
Entrance auditions for comprehensive study and scholarship opportunities :
30 March 2019 , 10:00 AM
Or by video uploaded to Youtube and emailed to office@brassacademy.com
Audition repertoire:

Tenor Trombone:
Ferdinand David: Concerto op.4 
Orchestral excerpts : Mahler Symphony No. 3 and Mozart Requiem.
Bass Trombone :

Works : Levedev concerto for bass trombone
Orchestral excerpts : 9ª Beethoven, Valkyries 
 Activities of trombone program in 2019-2020
* 18 sessions in total.
   2 sessions per month ( weekend intensives ) lasting 2 days , with a maximum of 15 students
* Individual lessons, chamber music opportunities, Brass Ensemble, Low Brass coaching, and orchestral repertoire class.
* Participation free of charge as auditor in the Masterclasses organized by the Brass Academy Alicante.
* Opportunity to participate in the Sony and Freixenet Orchestras of the prestigious Escuela Superior Reina Sofía de Madrid and in the famous "Encuentro de música de Santander" .
---
Tuition Fees for Comprehensive Study:
2.000 ,- Euros
(Includes 500 Euros in "Brass Academy Alicante Scholarship")

Cost for students above age 28 (no scholarship option):
2.500,- Euros

    Condiciones y fechas de pago : leer bases de inscripción generales.
Certificates of study: Upon completion of the academic year at the Brass Academy Alicante, the artistic directors of the Academy present a Diploma of studies to the student, corresponding to the course of study completed in that year.
PAYMENT OF TUITION FEES:
Account owner for payment receipt: BRASS ACADEMY ALICANTE
Brass Academy Alicante Account No:
BANCO ING   /   IBAN: ES51 1465 0100 9819 0046 0502
 International Transfers:
BANCO ING   /   IBAN: ES51 1465 0100 9819 0046 0502
SWIFT/BIC Code: INGDESMMXXX
* When making the transfer, please do not forget to include the details: INSTRUMENT – STUDENT'S FIRST AND LAST NAMES.
Pease send a copy of the receipt by e-mail to: office@brassacademy.com
[/vc_column_text][/vc_column][/vc_row]