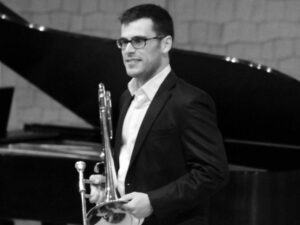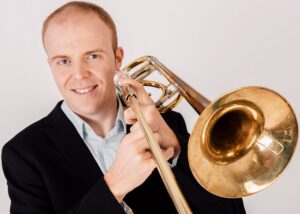 PROFESSORS TROMBÓN
COURSE 2023-2024
Dani Perpiñán / Trombone tenor / ESMUC Professor of Barcelona.
Juan San Juan / Trombone Soloist Orchestra of the Community of Madrid
Ian Bousfield / Professor at the "Hochschule der Künste Bern" and the "Royal Academy of Music London"
Miguel García Casas / Trombone soloist of the Frankfurt Opera Orchestra.
Entrance exam 2023-2024
25 March 2022, 10 a.m.-1 p.m
Where?
Calle Ciudad de Matanzas 5 , 03 005 Alicante
Or via video uploaded to Youtube, sent from now until March 23, 2023,
together with the registration form to office@brassacademy.com
Price of Matricula trombone tenor: 2.200 ,- €
Terms and dates of payment: read general terms and conditions.
* Activities
* 18 annual meetings: 10 meetings with Dani Perpignan , 6 meetings with Juan San Juan ,
1 meeting with Miguel García Casas and 1 meeting with Ian Bousfield.
* Chamber music, Brass Ensemble and collective orchestral repertoire classes
* 20% discount on Masterclasses organised by the Brass Academy Alicante.
* Free participation as listener in the Masterclasses organized by the Brass Academy Alicante.
* Possibility to participate in the Ensemble Brass Academy Alicante (through aptitude tests).
* Possibility to participate in the Sony and Freixenet Orchestras of the Reina Sofía School of Madrid and in the "Encuentro de musique de Santander" (through internal tests).
Repertoire Audition
1st move. Ferdinand David: Concerto op.4
Orchestra solos: Mahler's 3rd and Mozart's Requiem.
Account number for enrollment:
Asociación Brass Academy de Alicante
IBAN ES1600494518192390009332
Código BIC/ SWIFT : BSCHESMMXXX
Banco Santander
CERTIFICATE OF STUDIES
At the end of the academic year of study at the Brass Academy Alicante , the artistic director of the Academy gives the student a certificate-diploma of studies according to the studies and modalities carried out
Payment terms and dates: read general terms and conditions
Admission for students and teachers
BAA on PLAYWITHAPRO
ONLINE MODALITY
* Technical refinement or preparation for orchestra tests or competitions.
1 class 45 minutes: 50 Euros
1 class 60 minutes: 70 Euros
* Individual lessons of 45 and 60 minutes with the professors, Daniel Perpignan and Mark Hampson
* Payments for classes must be paid at the time of registration.
CLASS DATES 2023-2024
October 2023
Juan Sanjuan: 1 – 2 (Sunday  & Monday)
Dani Perpiñán: 20 – 21 (Friday & Saturday)
November 2023
Juan Sanjuan: 4 – 5 (Saturday & Sunday)
Dani Perpiñán: 17 – 18 (Friday & saturday)
December 2023
Juan Sanjuan:
Dani Perpiñán: 22 – 23 (Friday & Saturday)