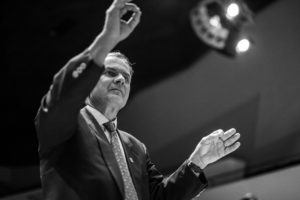 The "Brass Academy Alicante" was created in September 2008 and, in parallel to the educational activities, the "Brass Ensemble" was created that same year with the best students of the Academy, whose objective is to play quality works from the most diverse periods and styles, as well as making the repertoire known to students who already have the required technical capacity.
Thanks to the quality work developed by this Ensemble, members of it have managed to obtain important orchestra positions in Europe and other continents such as: Deutsche Radio Philharmonie Saarbrücken, Helsinki Philharmonic Orchestra, Gustav Mahler Orchestra, JONDE, Finnish National Opera, Dunschan Symphonic Wind Orchestra in Beijing, etc.
In the Ensemble, some teachers from the Academy also play together with the students, fulfilling the objective of transmitting to the students in a practical way the scenic experience and styles, acquired in renowned orchestras and chamber groups.
Currently the group is made up of 6 trumpets, 5 horns, 3 trombones, a bass trombone, an euphonium and 2 tubas.
Cuando el repertorio así lo exige se agranda el grupo con más miembros de la Academia.
When the repertoire so requires, the group is enlarged with more members of the Academy.
Rudi Korp, trumpet teacher at the Brass Academy Alicante, is in charge of conducting.
The Ensemble has already had performances in Barcelona, Madrid, Torrevieja, Orihuela, Murcia, Cox, Villena, Daya Nueva, Callosa de Segura, Calpe, Benissa, ADDA Auditorium in Alicante, Villajoyosa, Palau de Altea and at the Schagerl Festival in Austria.
Invited soloists such as Gabor Tarkövi, Sarah Willis, Nury Guarnaschelli and Lito Fontana have performed along with the group.
Desde el año 2012 el grupo es Ensemble en residence del  International Summer Brass Festival Alicante.
Since 2012 the group is Ensemble in residence of the International Summer Brass Festival Alicante. And since this same year, the Ensemble has a collaboration agreement with the Provincial Council of Alicante, performing through it concerts throughout the province of Alicante.
Strauß, Festmusik der Stadt Wien.
Enrique Crespo: Fogo da Mulata
G.Verdi: Marcha triunfal de Aida.
J. FUCIK Florentiner March