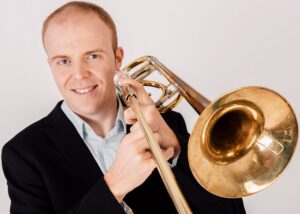 Miguel García Casas (1994 – Les Coves de Vinromà – Spain)
began his musical studies with Israel Salvador at the music school of his hometown and with Félix García at the Municipal Conservatory of Benicarló and Castellón. Parallel to his official studies, he has taken numerous advanced courses and has been a student of Carlos Gil and Indalecio Bonet at the Stomvi Trombón Hall.
He then studied at the Royal Conservatory of Music in Madrid with Professor Elies Hernandis, and extended his musical training by completing a Master's Degree in Musical Interpretation at the Hochschule der Künste Bern with Professor Ian Bousfield.
He has belonged to many young orchestras both nationally and internationally and has been an academicist at OSIB, OCNE and TOBS. He has also collaborated with different orchestras such as Staatsorchester Hamburg, Ensemble Modern, Orquesta Sinfónica de Madrid, Orquesta de Navarra, Orquesta Sinfónica y Choro de RTVE, Le Concert des Nations, European Philharmonic of Switzerland, etc.
Since the 2020/21 academic year, he has been part of the list of temporary professors for merit competition to cover the teaching needs of the Higher Art Teachings of Music of the RCSMM.
His commitment to chamber music led him to collaborate with And The Brass and Nineties Trombone Ensemble, and Frankfurt Chamber Brass. He also participated in other projects and recordings with the composer and trombonist Uwe Dierksen, and with Maestro C. Eschenbach and the Kronberg Academy.
Since 2018 he has been solo trombone with the Frankfurter Opern- und Museumsorchester.