New mode of study for  HORN !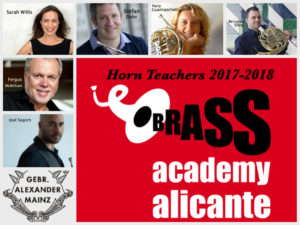 Main Sponsor :  Gebr. Alexander Mainz
For advanced students , with internationally recognized teachers.
Terms :
There is no age limit.
Price: 2,000 Euros
(Includes half scholarship Brass Academy Alicante)
Classes are held from October 2017 to June 2018.
The study includes:
3 single lessons of 90 minutes per month, one of them with one of the following internationally famous guest teachers, the rest with Nury Guarnaschelli, chair holder.
Optional included : Orchestral repertoire ( groups) , Ensembles, chamber music and concerts.
Inscription : office@brassacademy.com 
Stefan Dohr – Berlin Philharmonic Orchestra / 25th & 26th January 2018 
José Sogorb Jover – Royal Concertgebouw Orchestra – 23th & 24th February 2018
Bernardo Silva – Orquesta de Oporto / 23th & 24th march 2018
Sarah Willis /  Berlin Philharmonic Orchestra / 21th & 22th april 2018
Fergus McWilliam – Berlin Philharmonic Orchestra / 11th & 12th May 2018 
Carsten Duffin – Bayerischer Rundfunk /June 2018
2016-2017 
Stefan Dohr  – Berliner Philharmoniker 
Sarah Willis – Berliner Philharmoniker 
Fergus McWilliam – Berliner Philharmoniker 
Stefan Jezierski – Berliner Philharmoniker 
Marie Luise Neunecker  – Hochschule Hans Eisler Berlin 
Ignacio García  – Staatskapelle Berlin 
Xiaoming Han  – Deutsche Radio Philharmonie 
María Rubio   – Orquesta de Valencia 
José Garcia  –  RSO Madrid 
Paulo Muñoz –   Orchestra Tonhalle Zurich