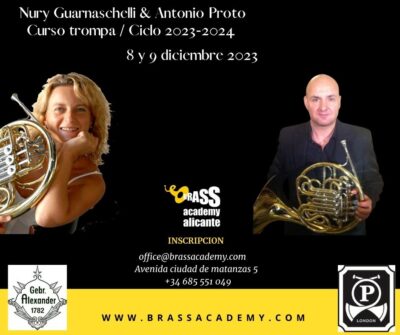 Antonio Proto /  Prof. Salerno"Monterisi" school of music 
Nury Guarnaschelli / Prof. Brass Academy Alicante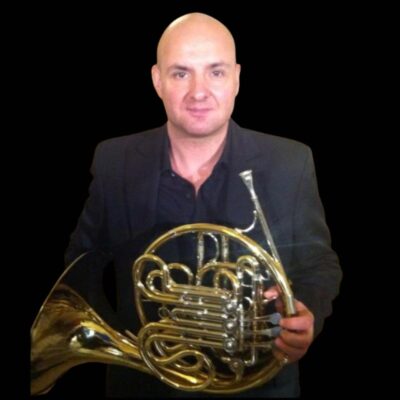 Antonio Proto was born in Minori (Sa) in 1971, graduated from the Salerno Conservatory in 1994, and during his studies he honed his skills with maestro Luciano Giuliani, 1st horn of the Rai Orchestra of Rome. In the year of his degree from the Conservatory he was able to audition at the Teatro Dell'Opera in Rome and began to have his first work contracts. He collaborated with Maestro Will Humburg and with Maestro Roberto De Simone where he toured Italy and abroad, London, Paris, Barcelona, staging La Gatta Cenerentola (exclusive Rai recording), L'Opera Buffa del Giovedì Santo, I Turchi Viaggiano and La Donna Vendicativa.
He won the audition at the Fiesole Music School, collaborating with the Italian Young Orchestra. Here she studied with Maestro Guido Corti, graduating in soloist and performance after two years. He continued to perfect herself by studying with maestro Simone Baroncini.
He began to collaborate with several Italian theaters, the Rome Opera, the Teatro alla Scala, the Teatro Maggio Musicale Fiorentino, the Caserta Chamber Orchestra, the Salernitana Philharmonic Orchestra, the Florence Ensemble. During his career he continued studying, perfecting his skills with Maestro Luca Benucci and Maestro Dale Clevenger, 1st Horn Soloist, Chicago Symphony Orchestra. He collaborates with the Maggio Musicale Fiorentino Orchestra playing under the direction of internationally renowned conductors such as Riccardo Muti, Zubin Mehta, Daniel Nazareth, Myung-Whun Chung, Daniel Oreon, Yuri Aronovich, R. F. De Burgos, George Petre, Peter Maag, N. Gelmetti, D. Renzetti. He collaborated with the Caserta Chamber Orchestra playing with soloists Michele Campanella, Serge Zimmerman, Guido Corti, Luigi Piovano. He has performed concerts with the Florence Ensemble, collaborating with Marco Postinghel, Rossana Calvi, Luca Vignali.
He held the position of 1st and 3rd Horn in the Verdi Theater Orchestra of Salerno, touring Paris and Munich. For several years he has held the horn chair at the "Monterisi" secondary school in Salerno and organizes master classes with Maestros Luca Benucci, 1st horn of the Maggio Musicale Fiorentino, and Loris Antiga, 3rd horn of the London Synphony Orchestra , where he collaborates as an assistant. He is artistic director of the Minori Wind Festival on the Amalfi Coast, was director of "Media Musicale", a competition for secondary music schools, and is in charge of the artistic direction of the Largo Dei Pastai festival.
Currently, he is the Artistic Director of the Musikanten Association, a training project for Master Class, and of the Minori-Salerno Youth Orchestra. He founded the Mediterranean Horn Academy in Minori, which is responsible for attracting the most important national and international Horn Teachers for the artistic growth of young talents in our area. He is the artistic director of the Mediterranean Horn Meeting festival held every year in Minori. For several years he held the position of teacher at the Liceo Musicale "Alfano 1° and currently holds the horn chair at the state secondary school "Monterisi" in Salerno.
Limited places!
Book yours now…
PRICES
Active: 150 Audience: 20 x day – 10 x half day

Registration form
Formulario-inscripcion-masterclass-2023-2024
Where ? Calle Ciudad de Matanzas 5, 03005 Alicante / Spain

Information
(+34) 685 551 049 (also WhatsApp available)
office@brassacademy.com
Payment Methods
BIZUM: +34 658 575 136
Bank transfer:
Account:
Asociación Brass Academy Alicante
IBAN ES16 0049 4518 1923 9000 9332
Banco Santander
* When making the transfer please do not forget to put in concept:
Name Instrument and your first and last name.
Send copy of the receipt by e-mail: office@brassacademy.com