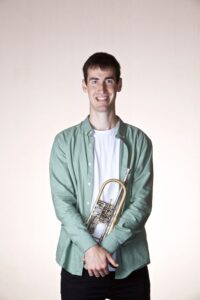 IÑIGO OCÓN
Born in San Sebastián, Spain (1999), Iñigo Ocón began his trumpet studies with his father and grandfather, and later continued his studies in the Municipal School of Music and Dance in San Sebastián. Iñigo later went on to complete his bachelor studies with Professor Gonzalo Sánchez in Conservatorio Superior de Música of Coruña, Spain, graduating with First Class Honours in trumpet performance. In addition, he has furthered his studies at the Escuela de Altos Estudios Musicales de Galicia with Professor Javier Simó. Currently Iñigo is studying at the Brass Academy Alicante, under the guidance of Rudi Korp and Martin Angerer.
Throughout the past several years Iñigo has attended various courses and masterclasses with prominent trumpet players such as Pierre Badel, Yael Fiuza, Alfonso González, Josu Ayarzaguena, Luis González, Didier Bousquet, John Aigi, Manuel Blanco and Omar Tomasoni.
At the age of 20, he obtained the 2nd Prize in category A at the XI "Valeriano Machí Esparza" Trumpet Contest.
Iñigo has collaborated with the Orquesta Sinfónica de Euskadi (Basque National Orchestra), Berliner Kammerphilharmonie, the Romanian National Philarmonic, Balearic Islands Symphony Orchestra, Bauge Opera Festival, Bilbao Symphony Orchestra, Valencia Baroque Orchestra and Euskadi Brass, as well as having been a member of the Gustav Mahler Jugendorchester (GMJO), Cuban-European Youth Academy of the Balthasar Neumann Ensemble, Basque Country Youth Orchestra, National Youth Orchestra of Catalonia, GAOS Orchestra, Orbis Symphony Orchestra, along with the EIO (Euskadi Student Orchestra). He has recently played as soloist with the Banda Sinfónica Municipal de Alicante.