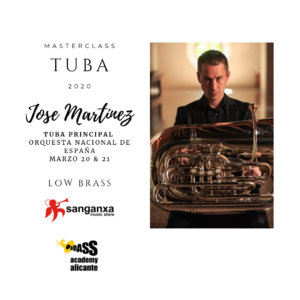 Registration Form
Formulario inscripcion masterclass 2019- 2020
JOSE MARTINEZ 
PRINCIPAL TUBA PLAYER  NATIONAL ORCHESTRA OF SPAIN
Reviewed by New Music USA following a performance of Charles Wuorinen's Never Again the Same since "his gestures rumbled with high contrast", Jose Martinez, a native of Chelva (Spain), is principal tuba of the National Orchestra of Spain since April 2017. Previously, he was a member of the Civic Orchestra of Chicago, Spoleto Festival USA Orchestra, Castleton Festival Orchestra, Swedish National Orchestra Academy, Baltic Sea Youth Philharmonic, European Union Youth Orchestra and the National Youth Orchestra of Spain.

As a reflection of his role models, Jose believes in the power of national and international artistic collaborations for the benefit of communities all around the world. An enthusiastic orchestral player, Martinez was fortunate to perform as guest with the Boston Symphony and Pops, Chicago Symphony, Gothenburg Symphony, Jalisco Philharmonic, Malaysian Philharmonic, Minnesota Orchestra, Naples Philharmonic, New York Philharmonic, New World Symphony, Porto Symphony, Saint Louis Symphony and the Seattle Symphony. A seasoned traveler, opportunities with the world-renowned Mahler Chamber Orchestra brought him on tour to Australia, China, Germany, Japan and Spain.

Fascinated by chamber music, Jose is a member of brassONEquintet since 2018 and from 2019 of the Duo 2Arts!, a dance and music project cofounded with the ballerina Sherezade Soriano. Jose has collaborated with groups such as World Brass and performed with artists from the New York Philharmonic and the American Brass Quintet as a Zarin Mehta Fellow or the Chicago Symphony Orchestra and the Ensemble Dal Niente in the MusicNOW contemporary music series.

Emerging educator, Martinez has exchanged knowledge with other musicians in Belgium (Ensemble de Cuivres de Belgique Brass Festival), Mexico (University of Guadalajara), in Portugal (Porto Polytechnic University School of Music and the Gravíssimo! Festival), in the USA (University of Washington and San Francisco Conservatory of Music) and in Spain at various institutions and summer workshops including the National Orchestra Academy. Future teaching commitments include those at the University of British Columbia in Vancouver (Canada), Northwestern University in Chicago (USA), Brass Academy in Alicante (Spain) or the Professional Conservatory in Covilhã (Portugal).

A learner for life (Sergio Carolino dixit and one of his inspirations), Jose is thankful for the occasional guidance and support received from Alan Baer, Anne Jelle Visser, Chris Olka, Dennis Nulty, Don Lucas, Floyd Cooley, Ingemar Roos, Jimmy Olsson, Ramiro Tejero, Randy Hawes, Toby Oft and credits a great deal of progress to summer studies at Tanglewood Music Center, Music Academy of the West and the University of Redlands. He will forever be indebted to Mike Roylance, Gene Pokorny, Morten Agerup and Sergio Finca, his greatest influences. A Luminarts Cultural Foundation Fellow at the Union League Club of Chicago since 2016, Martinez received numerous awards that supported his career and avoided extraordinary expenses in the bosom of the family. The "la Caixa" Foundation Fellowship (Fulbright-equivalent) stands out since, back in 2014, Jose was the first brass player ever awarded since the creation of the Foundation in 1982.
Having attended Valencia Conservatory, Spanish Brass Tuba Academy, University of Valencia, University of Gothenburg, Chicago Negaunee Music Institute, New York Philharmonic Global Academy and Boston University College of Fine Arts, doctor Martinez will become a member of the USA Pi Kappa Lambda National Music Honor Society in 2020.