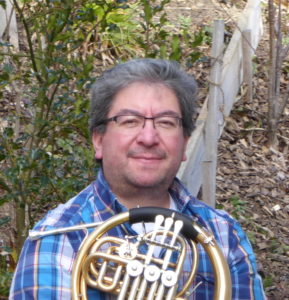 Paulo Muñoz Toledo began playing the horn at the age of 12, attending the horn class at the Conservatory of Music of the University of Chile, with Raul Silva and later with Edward Brown.
Three years later, he was awarded a scholarship to attend a summer music camp in the United States. Upon his return, he was asked to perform with the horn sections of the Philharmonic Orchestra of Santiago, National Symphony Orchestra, Chamber Orchestra of Santiago, etc. As a fellow in the National Youth Symphony Orchestra, he played the Strauss Concerto for Horn and Orchestra No. 1. Muñoz spent 4 years as 1st horn with the Jeunesses Musicales World Orchestra, during which time he spent a year studying at the Conservatoire de Paris. He received a fellowship from the Friends of the Municipal Theatre of Santiago, and after being awarded a scholarship in 1995 by the Andes Foundation, began his bachelor degree studies in at the Hochschule der Künste Berlin (College of Arts, today the UdK), with Professor Sebastian Weigle, Gerd Seifert and privately Ignacio Garcia, the latter being his mentor.
After a short period as "praktikant" at the Berlin State Opera (Deutsche Staatsoper), he was accepted in 1997 to the prestigious Karajan Academy of the Berlin Philharmonic, studying with the former principal horn, Norbert Hauptman, playing with the Berlin Philharmonic and working with great masters; Osawa, Mehta, Barenboim, Haitink, and Harding, among others. In 1998 he began playing with the Deutsches Symphonie Orchester Berlin. Since 2002 he is member of the Tonhalle Orchestra of Zurich. In 2003 he played with the wellknown Ensemble Wien-Berlin.
He has participated in the biggest music festivals in Europe, Asia and North America, such as the London Proms, Pacific Music Festival in Sapporo, Salzburg Festival, Aix-en-Provence and the Lucerne Festival, under the direction of Claudio Abbado. He is also a visiting lecturer at the conservatory of music in Zurich, where he prepares students in orchestral projects.
In 2008-2009 he taught at the Hochschule fur Musik in Mainz. For several years now he has also participated in the activities of the Brass Academy Alicante.
He keeps many of the ties with his past, performing regularly with his former orchestras, as well as in numerous chamber groups, all while maintaining an active role as a teacher.